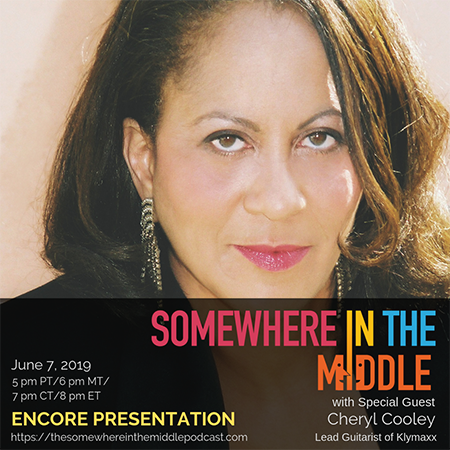 Cheryl Cooley of the all-female funk band Klymaxx shares about making funk music as a lead guitarist in the 80's and today
You know Cheryl Cooley from her amazing guitar playing as the lead guitarist of Klymaxx. The R&B all-female funk band, KLYMAXX is KLYMAXXTIC, and still going strong.
Their music is a staple on the radio and in dance clubs around the world. Belting out hits like, "The Men All Pause" and "Meeting in the Ladies Room" the group's name is synonymous with classic women's anthems. Their beautiful ballad, "I Miss You", was Billboard Magazine's #3 song of 1986 and still to this day is played when love is in the air. Continuing into the 90's with the #4 R&B hit, "Good Love" followed their sultry Neo-Soul groove entitled, "Private Party" showed that they could flow with the changing music trends.
Much of the group's success can be credited to Cheryl Cooley, Co-founder and original member. She has personally nurtured the group's unique sound by overseeing the infusion of 80's funk with a modern swag.
Cheryl's enthusiasm and vision have transformed KLYMAXX into a leaner, meaner entity producing live music that delivers dynamic vocals and uncompromised grooves.
These ladies are serious about entertaining their fans and continuing with the KLYMAXX legacy.