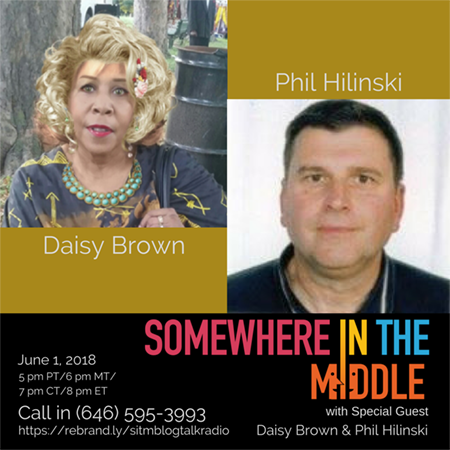 Somewhere in the Middle Welcomes Daisy Brown and Phil Hilinski
Daisy Brown is a native of Baltimore, MD, where she currently resides.  She is the Road Manager for The Chi-Lites featuring Marshall Thompson and has been a member of that organization for the past 46 years.  She is a retired legal secretary having worked in the field of law for 40 years and, for the past six years, Ms. Brown has been a dedicated supporter of the Miss Dream Castle Pageant, which gives young women a chance to showcase their talent and supports education scholarships to children in Jamaica.
Daisy Brown has served in the US Military and received an honorable discharge in 1982. In 2004, she became a life member of Associates of the Vietnam Veterans (AVVA). She joined The Enlisted Association (TREA) Chapter 9 in 2012, where she serves as secretary.  Daisy is the producer and co-host of the online radio show "Called To Serve" and is co-producer of "Soul School Music," which is hosted by Marshall Thompson of The Chi-Lites.  Ms. Brown also is an accomplished poet and lyricist.
Philip J. Hilinski was born in Cleveland, OH. He is a military veteran who served 21 years in the US Army from 1973 to 1994 when he retired as a Master Sergeant with a rank of E-8. During his time in the military, Philip served mainly in the United States. He also has worked as a contractor in the Middle East.
Philip is a member of several veterans organizations, including The Enlisted Association (TREA), where he currently serves as a Director on the TREA National Board of Directors and is in charge of an IT Committee.
Philip J. Hilinski is married with four adult children and lives near Columbus, Ohio, where he resides with his wife, Judith.