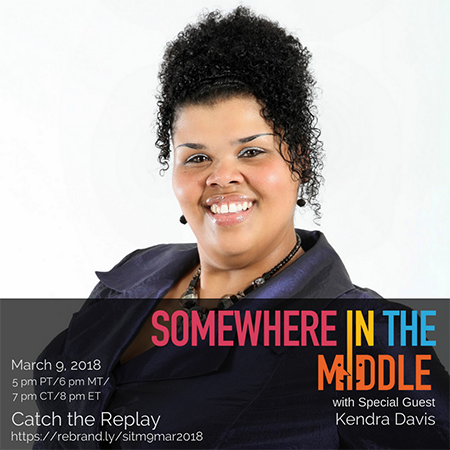 Somewhere In The Middle welcomes Dr. Kendra Davis-Burch
Kendra is a 1999 & 2009 graduate of Winston-Salem State University. She earned a Bachelor of Science Degree in Sociology (1999) & a Master of Science Degree in Rehabilitation Counseling (2009). She is also a 2016 graduate of Apex School of Theology where she earned a Masters of Divinity Degree. Kendra earned a Doctorate of Ministry Degree in Biblical Studies at Apex School of Theology May 2017.
In 2010, Kendra established K*METAMORPHOSIS, a Christian counseling organization whose vision, mission and philosophy was birthed out of the desire to fill a much needed treatment gap in the community. The organization's mission is to utilize a holistic approach to restore fallen humanity. This organization believes that individuals; despite their past are capable of transforming spiritually, physically, mentally, and emotionally. 
In 2012, Kendra became a published author. Her book Rivers of Life, a collection of life changing sermons and homilies; has been said to be resource that will empower you and inspire you to bounce back from anything. Many have described it as a spiritual vitamin that will rejuvenate, revitalize and refresh you! Kendra has released her second book NO MORE DISCOUNTS: "Lessons Learned Living Single!" A therapeutic tool used by many who have found themselves in the vicious cycle of abuse and toxic relationships, while seeking love and happiness. Kendra's transparency in this book has empowered others to heal, forgive and move beyond the pain to finding their purpose! In May of 2017 Kendra released her third literary project PRAY MORE, TALK LESS.