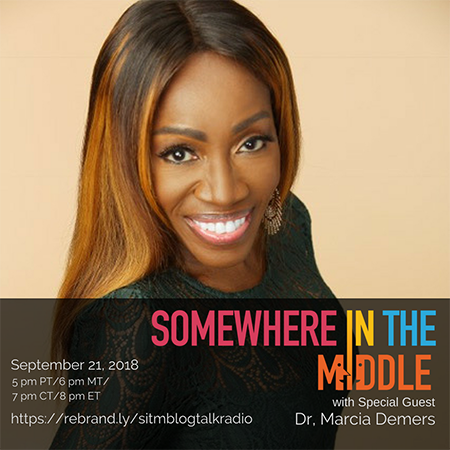 Somewhere in the Middle with Michele Barard Welcomes Bestselling Author Dr. Marcia Demers
Marcia Demers is an accomplished professional with many successful credits to her name. She has ten years of experience in clinical pharmacy and holds a Doctorate in Pharmacy from Nova Southeastern University. Dr. Demers is a licensed pharmacist in Florida, Pennsylvania, and Virginia. She is a member of the Phi Delta Chi Pharmaceutical Fraternity, which recognized her as the most volunteered brother. She is a member of Nova Southeastern's Rho Chi Honors Society, which recognizes students for consistent academic excellence. 
In addition to her many achievements, Marcia is now a two-time international best-selling author. She recently became certified as an Author Coach, showing others how to become best-selling authors using a foolproof formula. She epitomizes energy, creativity, commitment, reliability, and integrity, in every area of her life. She is also a licensed Realtor. Her goal is to assist others with one of their most important investments and helping to make homeownership attainable for people who think they never could achieve that dream. 
Marcia is a highly driven, self-motivated individual who enjoys people, reading, dancing, travel and working out. While she remains consistently engaged in working on her own personal growth and development, her core passion is philanthropy, giving back and helping others to achieve their goals and dreams.