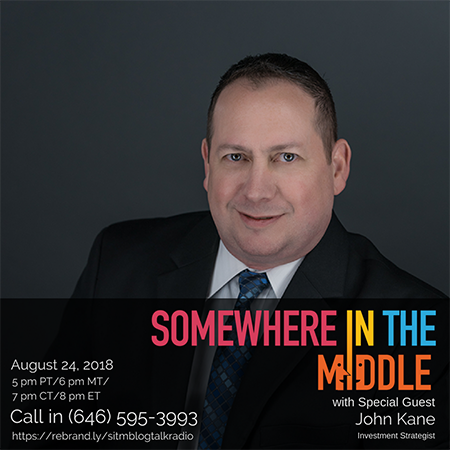 Somewhere in the Middle with Michele Barard welcomes Special Guest Investment
Strategist John Kane
John Kane is a professional investor and entrepreneur with a degree in finance. He had suffered financial setbacks in 2008 with his real estate portfolio and decided to go more into institutional finance. John turned his hobby of investing into a large financial group that manages millions of dollars of investments. His firm advises banks on proper trading protocols.
A native of Washington DC, John and his family currently reside in Arizona. He spends his time analyzing the markets for institutions in the morning. He is passionate about coaching entrepreneurs and individuals to think bigger by changing their mindset. From his training and experience with institutional bankers and traders, he has developed a system that enables companies to exponentially grow their cash flow. These tools can be used by anybody to increase their income. He has taught his system to everyday folks and well as large corporations for over a decade.