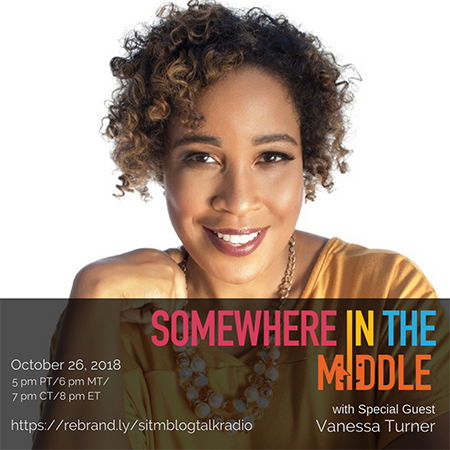 Somewhere in the Middle with Michele Barard Welcomes Educator and Author Vanessa S. Turner
Vanessa S. Turner is from the wonderful state of New Jersey. Due to her love for children and a passion for helping them learn and succeed, she obtained a Bachelor of Science in Elementary Education from Oral Roberts University. She later furthered her studies and received a Master of Education degree from Regent University. Vanessa is a professional educator who has been teaching elementary school in the public school system for the past twenty years.
Vanessa has a love for God and people. She has actively served in her local church in several areas since she was a teenager. Her longest ministry commitment there was in the capacity of a youth ministry leader for over thirteen years. She led students in home cell groups, drama ministry, choir, and missions trips. She also taught corporate Bible study and preached in teen services. Vanessa was also part of a team of pastors and fellow leaders providing oversight to a regional youth coalition.
Vanessa is a business person who is committed to developing her financial intelligence. She desires to support others in this area. Therefore, she offers individuals the opportunity to be part of a financial education and software services platform. People from all walks of life can participate in the forex market.
The late and brilliant Frederick Douglass said, "It is easier to build strong children than to repair broken men." This quote resonates with Vanessa because she understands that if young people believe in themselves at an early age, they will be better equipped to avoid many pitfalls that adults face.
Vanessa's mission is to empower youth in the area of their self-esteem by showing them that they are champions, phenomenal kids, and have the ability to be successful while having a great impact on the world. When she pours into young people, she is pouring into tomorrow's leaders.